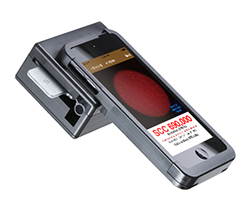 The Quick SCC
The Quick SCC gives you the somatic cell count you need at your fingertips in a streamlined device that lets you store and retrieve your testing history in the cloud.
The Quick SCC is the newest member of the Dairy Quality family of devices for testing somatic cell counts on the ground, when and where you need to so that you can respond quickly and take preventative measures. You get in-the-moment information and the capacity to track trends by storing your data in the cloud, direct from the Quick SCC. From this cloud, you also have the opportunity to share your results anonymously and contribute to a global project studying the factors affecting SCC in milk.
The Quick SCC includes:
The Quick SCC microscope device
iPod® touch 6th Gen preloaded with the Quick SCC app
Connection to the data cloud and shareable aggregation of SCC results
Instruction manual and warranty card
---
The Quick SCC mobile application
The Quick SCC mobile app is available for the Apple iPod touch 5 or 6. Quick SCC uses the Quick SCC microscope accessory to evaluate the somatic cell count (SCC) of your milk. Once you've inserted the sample slide, the SCC reading and image are displayed on your iPod touch in seconds. The Quick SCC stores and tracks the test results of your herd, and the dates and results are stored in the cloud by cow tag instantly. The Quick SCC app interfaces with popular herd management software and there are no monthly fees or hidden in-app purchases.
Update 2.1 (August 18, 2016)
Based on comprehensive tests conducted at University of Guelph, the SCC factor has been fine-tuned by a minimal amount
All three languages--English, French, Spanish--languages have been similarly adjusted and verified